Metal Fabrication & Machining Shop in Temecula are experts in their field.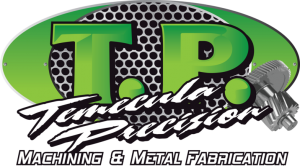 Temecula Precision is a full production Metal Fabrication & Machining Shop and modern facility. Specializing in 5 Axis C.N.C. machining, Robotic Machining as well as manual mill, lathe work, both for prototype and long run orders.
Temecula Precision has been providing high quality precision-machined parts that are manufactured to blueprint and delivered to customer's satisfaction for over 20 years. In that time they have produced parts for many different industries including, electronic, medical, cryogenic, automation, manufacturing, as well as tooling for aerospace and various other  applications. Temecula Precision is located in the heart of the Temecula valley and they have been faithfully serving this community and the surrounding areas since 1993.
 The vision of this company is not limited San Diego, Riverside County or LA County in fact this company is working hard to build a global brand that can supply custom Metal Fabricated & Machined parts to just about anywhere in the world.
Temecula Precision Metal Fabrication & Manufacturing will take care of all your Metal design needs.
Call Custom Metal Fabrication in Temecula Expert – Temecula Precision @ 951-699-4066 You'll be glad you did.
Just Look at some of the Metal Fabrication jobs they have done from their shop in Temecula, Click Here.. So pick up the phone now and give Steve or Emily a call at 951-699-4066, they will give you the quote you need and get your project started right away!
Remember if you are looking  5 Axis C.N.C. machining, Robotic Machining or Prototype & Production CNC Machining then Temecula Precision is your first choice. Call Temecula Precision Metal Fabrication Now 951-699-4066, Your Custom Metal Fabrication shop in Temecula.
 Metal Fabrication & Machining Shop